Thumpstar TSX 140cc BW
$1,599.00
$1,999.00
or 6 weekly interest-free payments of $266.50
What's this?
---
Thumpstar - TSX 140cc BW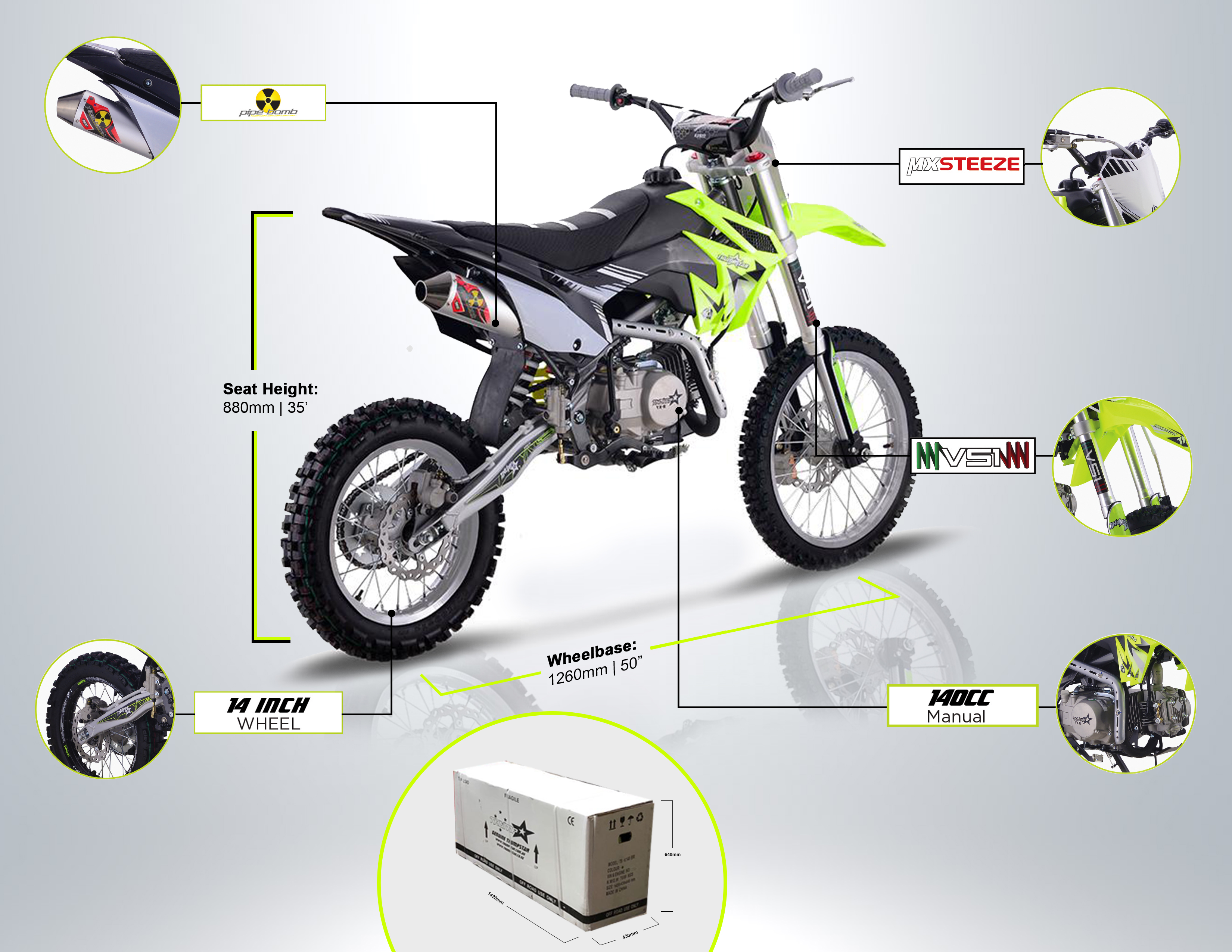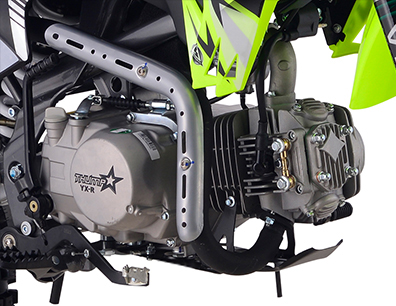 ENGINE
YX 140 3594 Engine
Giving you the thump you need to get off the line and punch that gets you out the gate, the YX140 engine delivers a whopping 11+ HP at the crank. Precision engineering from Yin Xiang delivers a reliable and strong engine package that consistently gets the job done.
Frame
Thumpstar Tri-bar Chassis
With developments in chassis strengthening and design, the new Tri-Bar Frame from Thumpstar allows the bike to feel more solid under foot while allowing the bike to perform with greater agility and comfort than ever before. Additions to the frame allow the header pipe to be re-routed under the frame, reducing likeliness of pipe burns to the legs, include removable foot-peg mounts, which can be easily replaced and allow the kick-stand to be removed for racing, a reinforced adjustable steering stop, and also accommodates our most exciting development in many years; the new Thumpstar Caged Air-box .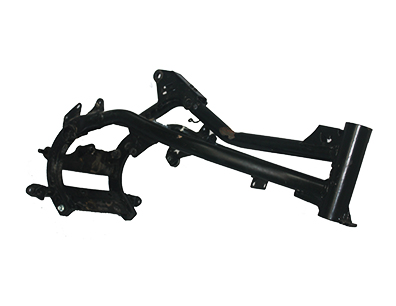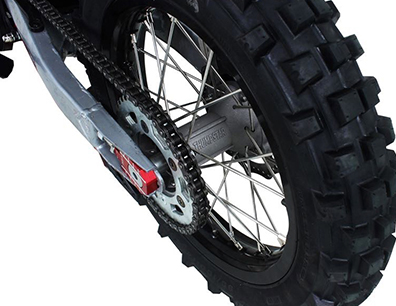 Wheels
AK7 Wheels
We've redesigned and strengthened our AK7 wheels to give you the comfort of knowing buckled rims and loose spokes are a think of the past. The cast aluminium hub has been changed to run a 6 bolt sprocket and 4 bolt disc, while moving to a 20mm axle that allows for oversized wheel bearings. We've swapped those stretch prone steel spokes for anti-stretch and snap resistant stainless spokes. And lastly, the rims have been upgraded to top of the line aluminium alloy.
Suspension
VS1 Front Forks
Our new line of VS1 front forks provide a plush yet stable ride through all those bumps, ruts and jumps. Improved outers coupled with our reliable valving lets the front end to have a settled movement while allowing greater front wheel feedback, keeping the fork to be rigid while handling bigger impacts.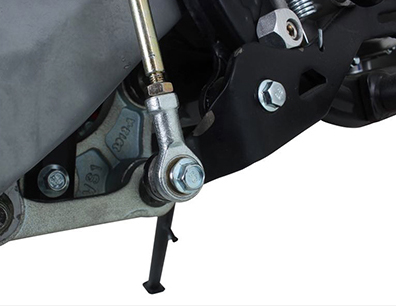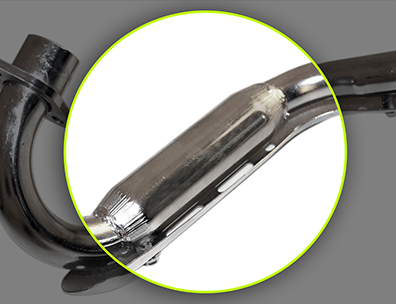 Header
Pipe Bomb 2.0 head pipe
A redesigned frame came with requirements for a new exhaust header. The new Pipe Bomb 2.0 head pipe from Thumpstar allows exhaust gasses to expand, cool, and ramp back up at a higher velocity when exiting. This results in a greater bottom, and low end response while keeping the tuning in check for the top end.
Highlights
Big Wheel 17/14inch Wheels (can also fit 14/12)
YX 140cc Engine 
Stator Gaurd (Protects your engine stator & casings)
Mikuni VM22 26mm
4130 Tri Frame with Cradle
Dual Piston HSK Front Brakes
MX Steeze Fat Bar
VS1 Front Suspension
Pipe Bomb DW-1 Exhaust System
Ribbed Stripe Gripper Seat
Ak-7 Alloy 7075 Rear Rim
Rim Lock
5 Bolt MX Hub
Specifications 
ENGINE & TRANSMISSION
Engine
YX | 4 Stroke
CC Rating
140cc 
Gearbox
Manual | 4 Speed (N1234) 
Starter
Kick 
Carburetion
Mikuni VM22 26mm
Exhaust
Pipebomb DW-1 | 38mm Exhaust System
Final Drive 
PSC 5 Bolt Sprocket | 428 HD Chain
Top Speed
90kph / 55mph (depending on gearing) 
 
 
SUSPENSION, BRAKES, & WHEELS
Suspension Front
VS1 Inverted Forks | Length 770mm | 45/48mm Fork
Suspension Rear
VS1 Mono shock | Length 325mm 
Brakes Front 
220mm Disc | HSK Dual Piston 
Brakes Rear 
190mm Disc | HSK Single Piston 
Wheel & Tire Front 
Alloy Rim | 70/100-17 
Wheel & Tire Rear 
Ak-7 Alloy Rim w/ Rim Lock | 70/100-14 
 
 
DIMENSIONS & WEIGHT
Wheelbase (axle to axle)
1260mm | 50"
Seat Height 
880mm | 35" 
Product Weight N.W | G.W 
70/80 kg | 154/176 lbs 
Tank Capacity
3.4 Litres | .9 Gallon 
Product Packing Size 
1420x430x640mm | .40m3 
Payment Details;
Credit cards & Debit cards: We accept Paypal, Visa, Master Card payments through our website. Our checkout pages are encrypted using SSL, Credit Cards are verified in real time using Paypal and checked again via Riskified to ensure maximum security. If you would like to pay with Q Card, Prezzy Card or Diners then we can offer this via Trademe Buynow Auction, just contact us at support@thumpstar.nz to arrange this.
Online Banking: Payments can be made by direct credit bank transfers. Simply Checkout, and click bank deposit option, you will then be emailed an invoice, remember to use your order number as a reference. Order over the Phone: To make an order over the phone, simply call +64 27 848 6778 or TXT 027 848 6778 to speak with one of our friendly customer service team. They can email you an invoice directly and will be able to help you with any questions you may have, as well as placing orders over the phone.
Bank Details:
Target Imports
ANZ Bank
06 0909 0333210 25
Ref: Order number
Parts Shipping
Parts are sent via PBT Couriers who send NZ wide within 1-2 days including a tracking number, we have used PBT for many years and have found them very reliable. YES we combine orders.
No Pickup Dunedin
$10 South Island Small Part
$15 North Island Small Part
$40 Engine New Zealand Wide
If you do not pay additional for Rural Delivery your part will be sent to closest PBT Depot. To check your post code is classed as Rural(RD) - CLICK HERE
Motorcycle Shipping
Thumpstar motorcycles are all sent in a steel crate and come 95% assembled. Please click here for assembly video instructions. We recommend having your local Thumpstar dealer assemble your new motorcycle.
Minicross, Pit Bike and Kids Motorcycle,
ATV, Quad and Full sized 250cc Motorcycles,
Free Pickup Dunedin
PBT Depot Collect ($90 South Island $130 North Island)
To Your Door ($130 South Island, $170 North Island)
Facetime/Skype Viewing
Want to view a Thumpstar from the comfort of your own home?
We now offering a new service to our customers, where customers can book a Facetime viewing (if have a Apple Iphone)
Our friendly salesman will show you around the Thumpstar and let you check out any details you wish, you can even listen to it run.
To book a viewing please TXT +64 27 848 6778 with what model you are interested in and we will be in touch with a time that suits, usually within 12 hours.
Contact
+64 27 848 6778
support@thumpstar.nz
Target Imports
270 Kaikorai Valley Road
Dunedin, 9011
New Zealand
Help Ordering
If you are unsure on ordering a part, we recommend watching our Youtube video under Info/Video tab or visiting our workshop section, if you still need help then please contact us,
Phone: +64 27 848 6778
Email: support@thumpstar.nz
ABOUT OUR COMPANY
Target Imports has been distributing Pit Bike / Mini Bike for the LONGEST in New Zealand and on Trademe (2004) this is our new web account which has been setup with one of the most advanced online parts ordering systems available, so you can be sure we always have stock. For Trademe feedback reference please visit account fmxjason which has a %100 record.
Our company is based in New Zealand and Australia and are the official distributors of the very popular Genuine Thumpstar. We also sell Pitster Pro and Reaper and can supply parts for other NZ Pit Bike / Mini Moto brands including Honda crf50, crf110, Yamaha TTR110, Kawasaki KLX110, KX 65, Suzuki DRZ 110, RM65, Daytona, Forza FMX and Braaap.
We also have lots of Dirt Bike, Motocross Riding Gear and Parts at great prices.
For more information on our company, just search GOOGLE.
We ship international, customers from overseas can benefit from our low exchange rate.
---
More from this collection